by Colette Legarrigues, L.Ac., MSOM, Dipl. O.M.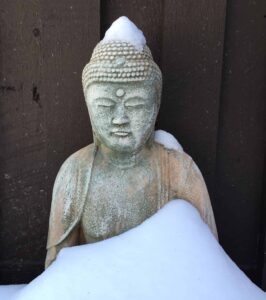 Winter is the most yin time of year. Yin is the energy that condenses and contracts inward, like something gestating, so that in the Spring, the energy can burst forth and become Yang again.
Late December and January in particular are the darkest, most yin days of all. It is the time of the deep recesses of the Water element—which is the best time of year to nourish our jing and boost our vitality for the Springtime, which is soon to come.
Jing is our essences, our vital life force, the deep reserves of energy we draw upon to live out the truest expression of an authentic life. Everyone needs more vitality (there's actually no limit!) and therefore everyone needs to nourish their jing. 
Stress, overwork, and stimulants like coffee and refined sugar… these are the cornerstones of modernity that all drain our deep reserves. Luckily, alchemists all over the world have been developing techniques to replenish jing for thousands of years. 
One of the most simplest ways we can boost our vitality is by choosing foods that nourish the body-mind and protect against premature aging. Here are some basic Winter tips:
Eat simple, warm, cooked meals.
Drink plenty of water and herbal tea.
Cut back on stimulants to promote the nervous system's capacity for deep rest.
Consider incorporating foods rich in nucleic acids that protect the body from degeneration: micro-algae (chlorella, spiraling, wild blue-green), fish, liver and organ meats, bone broth, and cereal grass.
Snack on almonds and cook with grass-fed clarified butter (ghee), both of which build the bones and aid in the assimilation of nutrients.
Sip on nettle tea, which enriches the blood with minerals.
Eat foods that can nourish our vitality… There are so many… chicken, walnuts, mussels, black and adzuki and kidney beans, seaweeds, royal jelly and bee pollen…
And, if you are feeling energetically depleted, come in for a treatment or schedule a nutritional consultation in-person or over Zoom if needed! Call now (413-213-0303) to book an appointment!
---
Colette Legarrigues is a licensed acupuncturist at the Alchemy Healing Center, in Northampton, MA. She is also a Chinese Medicine herbalist in the states of Massachusetts and California, and she is nationally certified as a Diplomate of Oriental Medicine by the National Certification Commission for Acupuncture and Oriental Medicine (NCCAOM). She holds a master's degree from the Acupuncture and Integrative Medicine College and a bachelor's degree from Brown University.